About NLP4Kids
At NLP4Kids we provide practical solutions to help children overcome emotional challenges, to increase confidence and self esteem and therefore enable children to reach a greater learning potential. Our workshops are designed and adapted from the effective techniques in NLP to help children to become better able to manage their own emotional states, to become inspired and motivated by the learning opportunities that are offered to them. The techniques we use are delivered in a way that is fun and comprehendible for children, encouraging them to co-operate more effectively with other students as well as improving their confidence and commitment when working individually.
Common Problems for Children:
*
Exam stress
*
Lack of Confidence
*
Low Self Esteem
*
Loss of Motivation
*
Negative Attitude
We provide NLP4Kids in the following ways:
1)
One of our NLP and child therapy experts can provide NLP4Kids coaching with your child on a
One to One
basis to help them gain maximum results from the NLP4Kids skill set.
2)
NLP4Kids provide
Private Workshops
in various locations across the UK and worldwide. We have a minimum of 6 and a maximum of 15 children of similar ages on our private workshops. Please check the calendar to find out about a workshop near you or contact one of our NLP4Kids practitioners to ask about their upcoming workshops.
3)
NLP4Kids is also
available in schools
and
schools may be entitled to receive funding
to help towards the cost of the workshops.
We work traditionally with children aged 7 years+ in a workshop environment and can work with younger children on a one to one basis.
Our team are qualified in NLP with qualifications or experience in working with children.They have each undertaken a specialised NLP course for children and have regular retraining and CPD.

Our team members all have up to date CRB checks and insurance.
What parents are saying about NLP4Kids…
"….(he has) learnt calming techniques…to help him feel in control of himself or the situation and this has helped his self confidence enormously."
"She now tries to reach her full potential instead of denying that she is good enough to even try."
"He has more faith in his own abilities and stands up for himself."
All of our Licensed Practitioners are featured on this website and will have the Licensed logo featured on their own website which look like this: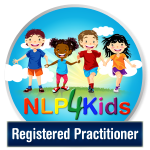 Our Licensed Practitioners receive ongoing retraining and continual professional development as part of their licensee agreement. They also have the opportunity to increase their skills by completing further training with NLP4Kids. Every year our Licensed Practitioners are appraised and following a successful appraisal will have their license granted for a further 12 months.
A Practitioner who has trained with us but who is no longer licensed by NLP4Kids (and therefore not receiving ongoing training or support from our organisation) will not be featured on this website but may display the following logo on their own site: